Novels by Jesse and Ron Feldman
Travel back in time to a land rich in history of soldiers, cowboys, prospectors, lost gold mines, and Indian cultures. See where it all happened with O.K. Corral Stables' horseback riding trips. Get ready for your trip with these two exciting novels.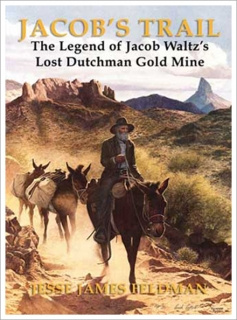 Jacob's Trail
The Legend of Jacob Waltz's Lost Dutchman Gold Mine
By Jesse Feldman

As a second-generation Dutch hunter, with twenty years on the trail of The Dutchman's lost mine, as his background, Jesse has drawn upon countless historical records, technical reports, interviews, and an unpublished handwritten manuscript (the Cox Notes) to develop a new and, perhaps, controversial explanation for this legend. While doing so, he has filled in many gaps in a historic puzzle that is the mystery of The Lost Dutchman Gold Mine.
The search for the Dutchman Mine has been a family passion. Jesse grew up amongst many local historians and diehard Dutchman Hunters, and he has made his living guiding in the Superstition Mountains. Not accepting the legend as it has been told for over 100 years, Jesse has made dozens of discoveries in historical records and in the field, making a strong case for a particular mine that he says is the Lost Dutchman Mine.
Book Price: $25.00 + $4.00 S&H US
Crooked Mountain — The Legend Continues
By Ron Feldman
Crooked Mountain – The Legend Continues is Ron Feldman's new historical western novel. It explores the Lost Dutchman Mine in the Superstition Wilderness of Arizona. As ZigZag, Ron's earlier novel, Crooked Mountain will fire your imagination and make you yearn to join Ron on his expeditions into the Superstition Wilderness in search of the Lost Dutchman Gold Mine.
Drawn to Arizona in 1968 by legends of lost mines and the Western mythology of Zane Grey, Ron Feldman has become an authority on lost mines and regional history. He established one of the most successful stables in the Southwest, the outfitting and
guide service
known as the O.K. Corral Stables.
Ron has appeared many times on national television and has been a guest lecturer at Central Arizona College. In 2004 to 2005, he headed an archaeological treasure-trove dig in the Superstition Wilderness, under the U.S. Forest Service.
Traveling on foot through some of the most rugged desert terrains in the world, Ted Cox with his dog, Coy, desperately try to make it to the Quarter Circle U Ranch in the Superstition Mountain. Ted is seriously ill and his dog's feet are blistered from the hot desert floor. Finally arriving at the ranch, he inadvertently overhears a plot to murder Adolf Ruth, a man who has come to search for the illusive Lost Dutchman Mine. While trying to prevent Ruth's murder, Ted becomes entwined in a high stakes journey filled with mystery and scandal when he also learns of a more sinister plan, which began when Arizona was still a territory.
"Feldman has captured the imagination of all readers interested in mystery, intrigue, and tales of the Superstition Mountain. This book is a must for anyone who follows in the footsteps of Coronado's Children." - Thomas J. Kollenborn
If you would like more information on these novels or would like to place an order, just drop us a line using our contact form!